Author: Alison Slevin
Date Published: 10 JULY 2019
Often when patients present for their first physiotherapy appointment for back pain, one of the first questions we get asked is if they should get a scan or X-Ray.
During your first physiotherapy appointment, we specifically ask a number of questions relating to your symptom onset, symptom behaviour, your past medical history and how your general health is among other questions. We then take all of this information into account when we undertake your physical assessment. From this assessment, if there are any signs that indicate serious pathology or specific conditions with which we require additional information then we recommend referral for imaging.
However, in the vast majority of cases, getting a scan at this stage may not give us any additional information, may not change our management plan at all (and is also very costly for you).
Consider the recent research investigating imaging results in people without back pain. (1) High levels of disc degeneration and disc bulges were found in this population despite the absence of symptoms. In 30-year-olds, 50% had disc degeneration and 40% had disc bulges - again in the absence of pain or other symptoms. These percentages continue to increase almost 10% with every decade (see below) and are considered normal aging, like getting wrinkles or grey hair. So, although there are times where imaging findings are very relevant, it is important to identify the times where the findings are less relevant to the pain presentation.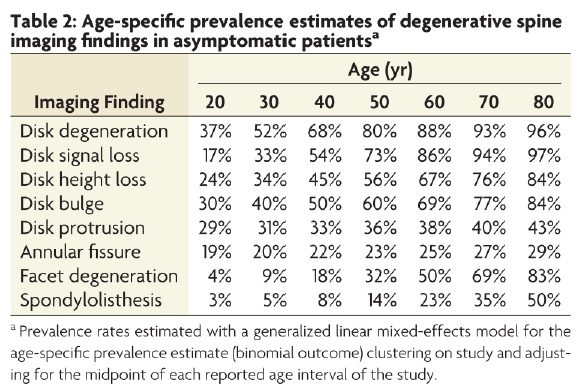 Brinjikji et al 2015
Often, these findings can cause worry and fear when found on imaging despite the fact that they may not be influencing symptoms.
Are there times where this information is relevant for people? Of course, but this is where individual assessment and clinical reasoning comes into play. What we must remember is that due to the multiple factors (individual to each patient) that can influence pain, X-rays and scans don't tell us the full story.
Here at West Coast Physiotherapy, our physiotherapists spend time investigating the full picture, identifying the factors that may be contributing to your symptoms and developing a tailored management plan. This management is consistent with recent spinal pain management research which has evolved away from the older concepts of core stability, resting from activity and protecting our spines, to promoting a more active approach, targeting the whole person (i.e. the full picture) and ensuring patients know just how resilient our spines really are. It may include exercise and activity modification, education and advice, manual therapy - this will be individualised once your assessment has been completed.
Summary:
- Your initial physiotherapy assessment is used to rule out serious pathology and you will be advised if medical management or imaging is required
- Most back pain presentations however, do not require imaging
- Imaging results may not change the management plan
- Findings of disc degeneration and disc bulges are considered a part of normal aging, like getting wrinkles and grey hair
If you are suffering from back pain, and are unsure what to do about it, let us provide you with an expert assessment of your condition and an appropriate treatment plan.
Phone: (08) 9341 2215
Book Online: www.westcoastphysiotherapy.com.au
Reference:
(1): Brinjikji,W.,et al. 2015. "Systematic literature review of imaging features of spinal degeneration in asymptomatic populations". AJNR Am J Neuroradiol 36(4):811.
Photo credit: https://myessentia.com/